Bridging Ecology and Economy: Dialogue on Payments for Ecosystem Services by BMZ, GIZ, and CGIAR
Claudia Ringler, the Director of Natural Resources and Resilience at IFPRI, sets the session's tone by highlighting the significance of Payment for Ecosystem Services (PES). Dr. Johann Swinnen, the Director General of IFPRI and Managing Director of CGIAR Systems Transformation Science Group, further emphasized the pivotal role of PES in the transformation of food systems and the management of externalities.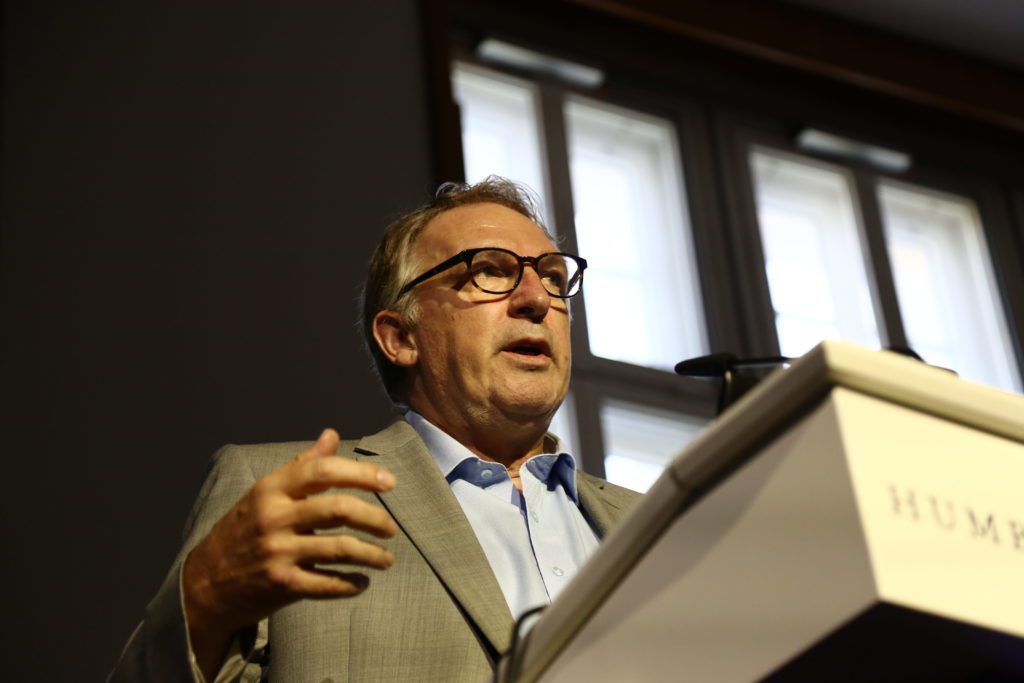 He pointed out that the limited application of PES can be attributed to complexities associated with measurements, information availability, implementation, and enforcement. Dr. Swinnen highlighted the necessity of moving beyond theoretical discussions to gain a practical understanding of how PES can enhance the resilience of food systems.
PES Overview: What, Where, and How?
Marcela Quintero, Associate Director General of Research Strategy and Innovation for the Alliance of Biodiversity and CIAT and Senior Director of the Food Systems Transformation Science Group outlined three key defining aspects of PES: voluntary negotiations between providers and users, well-defined rules and conditions for natural resource management, and the transfer of resources among social actors. Furthermore, land tenure, willingness to pay or accept payment, and institutional and organizational capacity play vital roles in the success of PES, although research gaps remain regarding evidence of socio-economic benefits (Börner et al., 2017).
Quintero added that, in terms of implementation, there are gaps to address, including differentiated payments to compensate for the cost of ecosystem service provision, ecosystem service modeling, and the definition of activities serving as the basis for payments. Targeting service providers is also crucial. Currently, there is a lack of monitoring and enforcement in implementation. She highlighted the case of Peru, where the establishment of a formal PES framework and the enforcement of laws related to payment collection helped drive progress.
For water-related projects, Quintero suggests focusing on finding evidence of land-use practices affecting targeted ecosystem services. For carbon-related programs, validating SOC (Soil Organic Carbon) models, creating GHG (Greenhouse Gas) calculators specific to tropical settings, and exploring the carbon sequestration potential of various agricultural practices are essential.
New Paradigm for PES Schemes
Felicitas Röhrig, Senior Policy Officer at BMZ, Division of Agriculture and Rural Development, addresses the current challenges known as the "3Cs" – Climate change, COVID, and Conflict – which are affecting global food systems. She emphasized the necessity for a paradigm shift, particularly due to the vulnerability of smallholders in the Global South to these shocks. These smallholders, despite providing valuable ecosystem services, are not adequately rewarded for their contributions.
Röhrig emphasized the importance of creating opportunities for these smallholders to generate income based on the positive externalities of their activities and their invaluable roles in climate protection and food security.
According to Röhrig, the new generation of Payment for Ecosystem Services (PES) schemes should focus on enabling increased and diversified income for smallholders. These schemes should also provide incentives for nature-friendly activities and offer a range of financial instruments. Technological innovation is imperative, as is the need for increased public and private funding and support for policy reform.
Lessons Learned from Carbon Markets
Steven Lawry, a Senior Associate at CIFOR, highlights that REDD+ (Readiness for Reducing Emissions from Deforestation and Forest Degradation) and PES interventions have proven ineffective in the context of community forestry. He highlighted that successful stewardship hinges on several fundamental elements, including the ethic of care, intrinsic knowledge of the context, and agency.
Furthermore, In situations where there is already a high level of stewardship with an optimal carbon balance, both socially and ecologically, the implementation of PES programs could be disruptive. Instead, he suggests that directing investments toward the enhancement of social and environmental well-being may be a preferable course of action in such cases.
Lawry suggested that incentives through PES schemes may find greater applicability when dealing with individuals or entities engaged in deforestation activities. However, he emphasized the importance of comprehending the local context and understanding the underlying drivers of deforestation to effectively address such challenges.
Insights from Africa
Amos Wekesa of the Global Evergreening Alliance (GEA) highlighted several significant challenges in implementing AFOLU (Agriculture, Forestry, and Other Land Use) projects, including high entry and initial costs, the absence of adequate measurement tools, issues related to non-permanence and leakage, concerns regarding certification, and uncertainties in policies. To mitigate transaction costs associated with service provision, Wekesa recommended the aggregation of farmers into groups. Additionally, he emphasized the importance of tailoring extension services to local contexts and underscored the value of Training of Trainers (TOT) programs for lead farmers, as well as the adoption of digital systems to enhance the effectiveness of these services.
Wekesa further highlighted the necessity of developing a robust business case that incorporates farmers' interests, accounts for extension costs, and promotes social equity. He suggested that 10 to 15% of carbon revenues should be allocated to cover monitoring and transaction costs, and advocates for pricing carbon credits at levels exceeding 4 USD. In the context of tree planting programs, Wekesa proposed an initial strategy of planting more trees than the target as a means to mitigate non-permanence risks and ensure an adequate supply of trees to meet livelihood needs.
Insights from India
Pranab Choudhury, representing The Foundation for Ecological Security, advocated for adopting a system thinking approach instead of a linear and commodity-based one when aiming to achieve mutually beneficial solutions in PES. In this context, he emphasized the strategic importance of bundling services. For instance, in Meghalaya and Odisha, forests are seen not only as sources of food and medicine but also as providers of timber, fuelwood, non-timber forest products (NTFPs) for livelihoods, watershed, and nutrition services, and even as social and recreational spaces through forest paths. However, he also highlighted the potential risks that may arise if a linear and commodity-centric approach is adopted in such settings, including reduced employment opportunities and increased resource extraction, such as stone quarrying and timber harvesting.
Additionally, Choudhury emphasized the importance of incorporating a socio-ecological perspective alongside the current scientific and market-oriented approach. This shift is expected to enhance community participation and encourage greater engagement by Civil Society Organizations (CSOs) in PES initiatives.
The Way Forward
Quintero discussed a largely unresolved issue: the fairness aspect of additionality—how to fairly compensate farmers who are already engaged in good practices. In the case of water services, she highlighted an example of a shift toward rewarding water resource conservation in Peru, where the government has formulated policies to implement this approach. Later on, Lawry supported the idea of recognizing long-term investments toward sustainability. He pointed out that in communities with systemic issues related to conservation and management, farmers may lack the social and institutional conditions needed to respond to incentives. In such cases, Lawry argued that a sustained adherence to conservation practices is unlikely. He suggested reframing "payments" to "investment" to increase local social capacity for resource management and community well-being. Röhrig suggested that public funding can be utilized in projects where business cases are not applicable to enhance the sustainability of PES schemes. In the context of pre-financing transitions for smallholders into agroforestry, Röhrig proposed that offering loans can help alleviate the financial risk for farmers.
Regarding future research priorities, the speakers highlighted biodiversity, participatory action research to enhance community involvement, benefit-sharing, and investment in social and ecological aspects as key research agendas.
This session is the second installment of the BMZ-CGIAR Policy Webinar Series titled "Payments for ecosystem services: win-win solutions? (BMZ/GIZ session).
References
Börner, J. et al. (2017) 'The effectiveness of payments for Environmental Services', World Development, 96, pp. 359–374. doi:10.1016/j.worlddev.2017.03.020.