Water, rice and droughts: three keynotes, a lot of food for thoughts
It is my personal highlight of the Tropentag 2020 – 90 minutes, three keynotes and a lot of thrilling input! Where to start. Okay, with the first one – Petra Schmitter, a Senior Researcher at the International Water Management Institute. For more than a dozen years she´s mainly worked in interdisciplinary research for development projects in the field of farmer-led irrigation, water productivity, irrigation scheme modernization, land degradation and hydrological modelling. It´s highly relevant – as there is for example only 6 percent of cropland in Africa is irrigated (worldwide: 20%).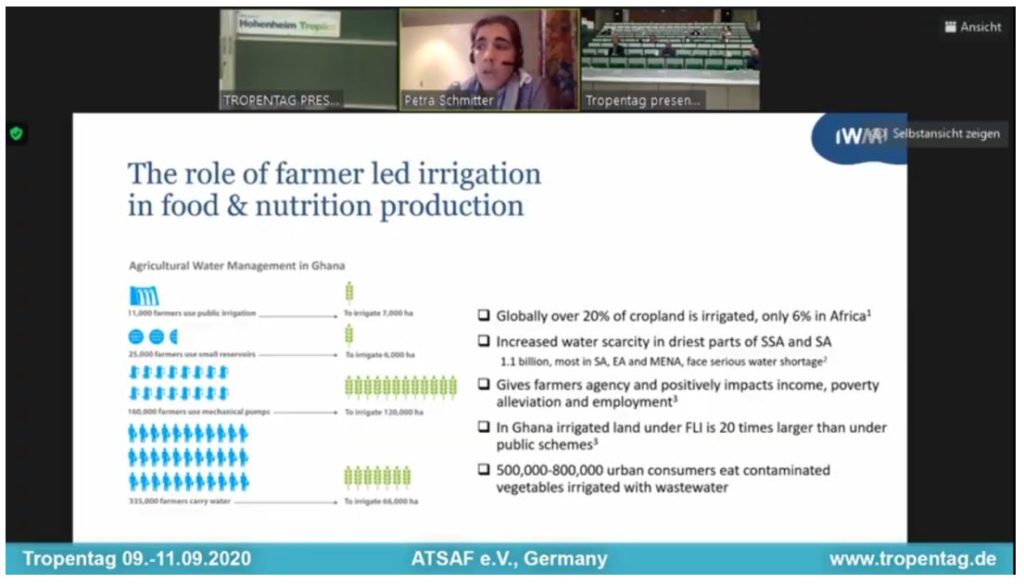 Climate change, e.g. by droughts or by floods, will be an issue for smallholder farmers.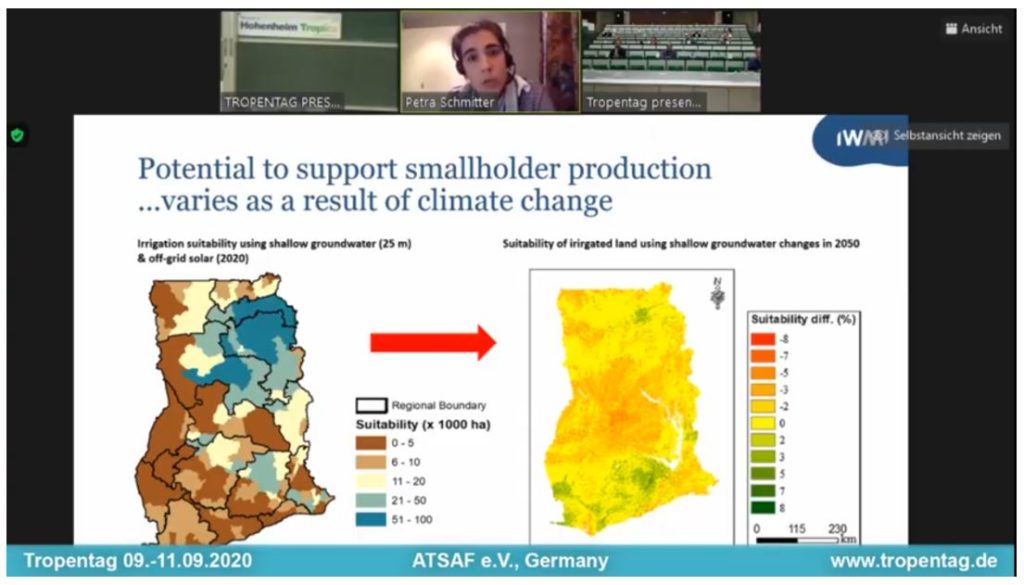 One idea is, to include social behaviour in the research, for example the question "who is irrigation when, how much – and why?" To collect data, a path is to connect the pumps with sensors.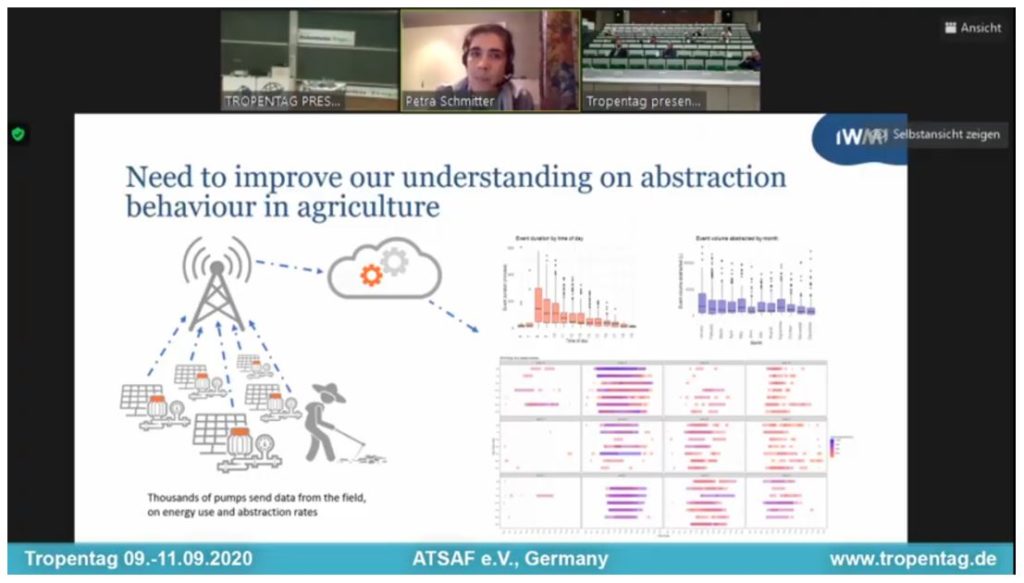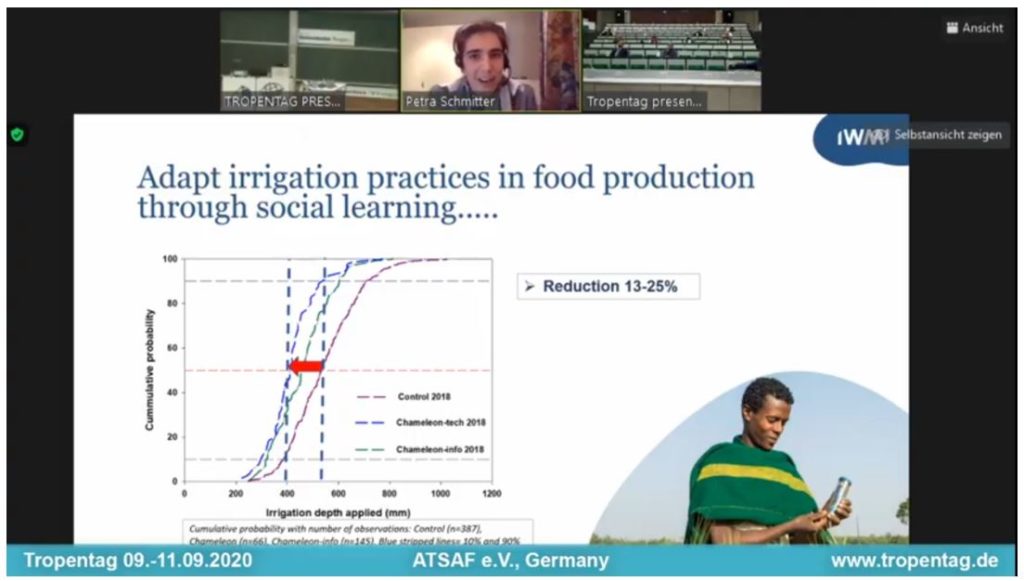 Isn´t that cool – could decrease the amount of valuable rainwater or groundwater, up to one fourth!
So, I learned that it´s a cybernetic system, and bringing together crucial elements as energy, resources, social behaviour and of course water is a very promising approach.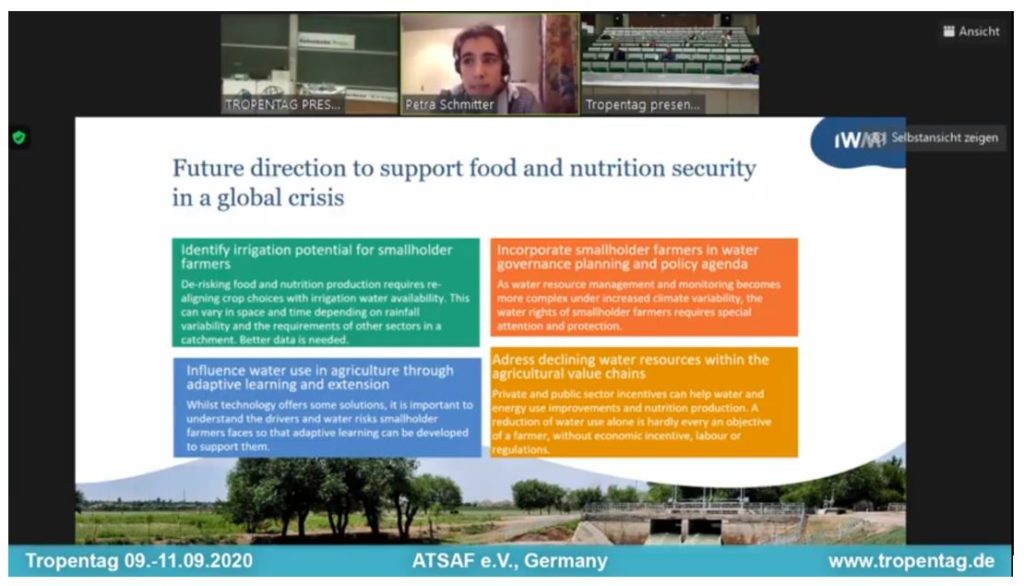 Let´s see … Co2 amount: rising. Temperature: rising. Sea level: rising. Land: sinking by subsidence (mainly caused by groundwater pumping). Welcome to many delta regions, especially in south east Asia! Disquieting facts, factually presented by Bjoern Ole Sander, Senior Scientist at International Rice Research Institute (IRRI). His focus is on delta areas, as there is the majority of rice being produced, at least in countries like Vietnam.
After only ten minutes, I got clearly, how severe the situation is: rice is not only feeding 4 billion people worldwide, but it is also an important protein source. Really, protein? Yes, just due to amount of consumed rice!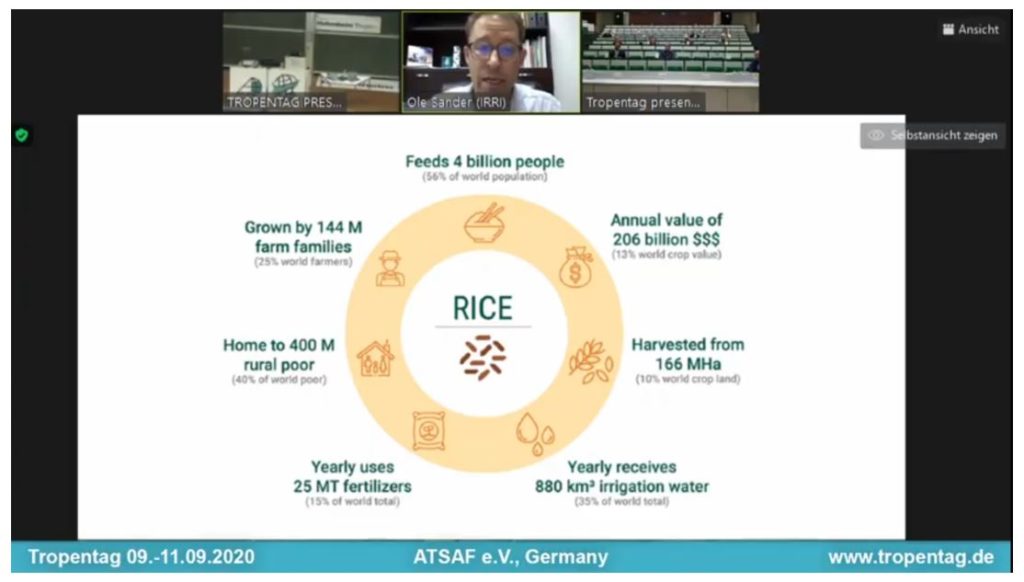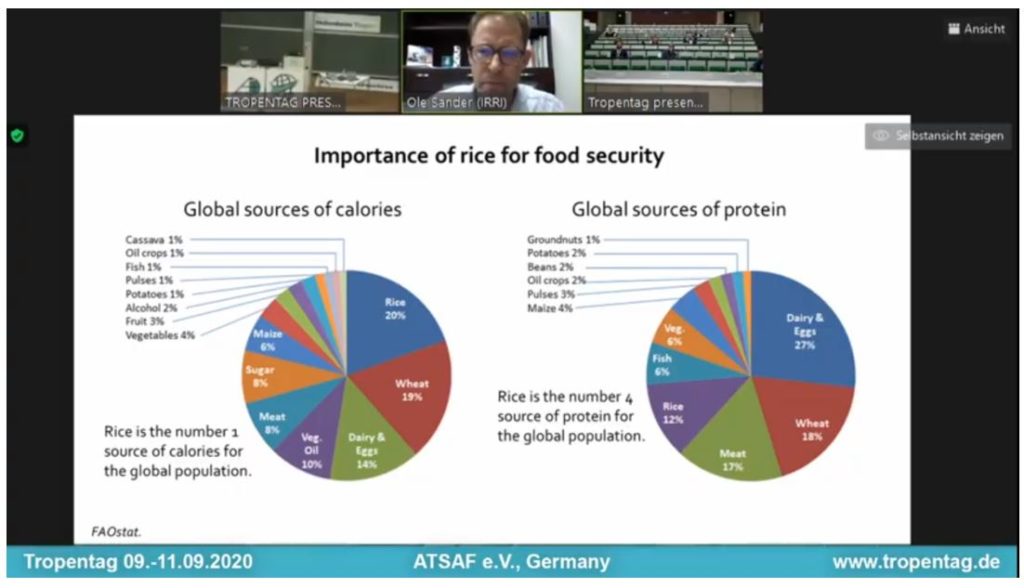 Now, rising Co2 level in the atmosphere has a huge negative impact on the rise – it´ll decrease the amount of protein as well as micronutrients. In coastal areas the salt topic comes on top. And, vice versa, the crops itself are a huge emission source of CO2.
What to do? Instead of putting one´s head in the sand, there´s a huge potential of measurements. Ole introduced some of them and showed the chance of saving in best case up to 65 percent!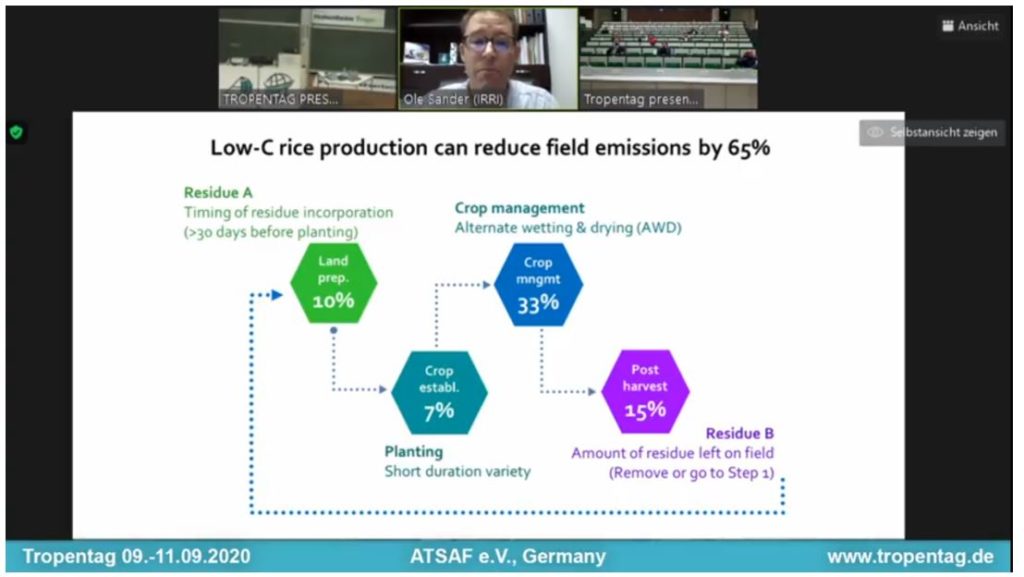 I like the following image, that shows even non-experts as I am, what differences working on flood-tolerant varieties can make:
Varieties written in white don´t have the Sub1 gen, those marked in yellow lettering do have it. Besides, they work on salt-resistant varieties, that can stand a salt amount, with which you might grow shrimps! Come on, it´s rice, not chlorella. And, he has more potentially good news – for what can be done after the harvest:
Okay, if I go on with my post like this, it´d get eight meters long. Who would read it? Also, as these details are … well, not only encouraging, if I might say so. The next scientist to come addresses mainly droughts, which is interesting, as Michael Bruentrup, from the German Development Institute in Bonn, is an economist. Should crises be prioritized? ("Yes!") Can one calculate, how much water can be used during a drought in agriculture – and then rationing it? ("Yes!")
Resilience and disaster risk management, or as developed and introduced by Michael, "FNS = Food and nutrition security" is another multi-complex system.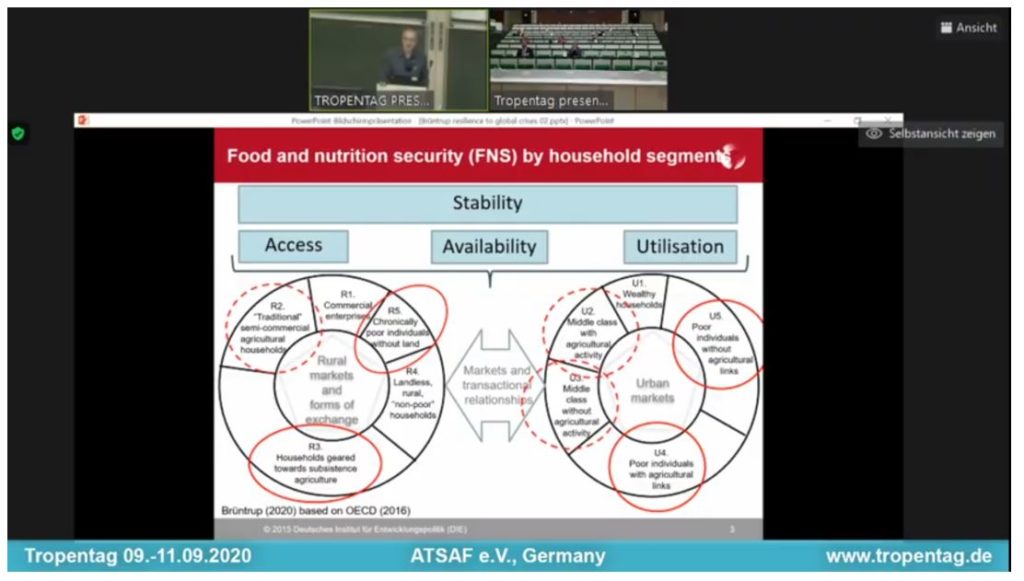 In a quiete matter-of-fact and unemotional way (I´m not complaining, it´s the way of course, it has to be … still though: I´m getting emotional, being faced with the pure dimensions of the challenges) Michael is operationalising the world: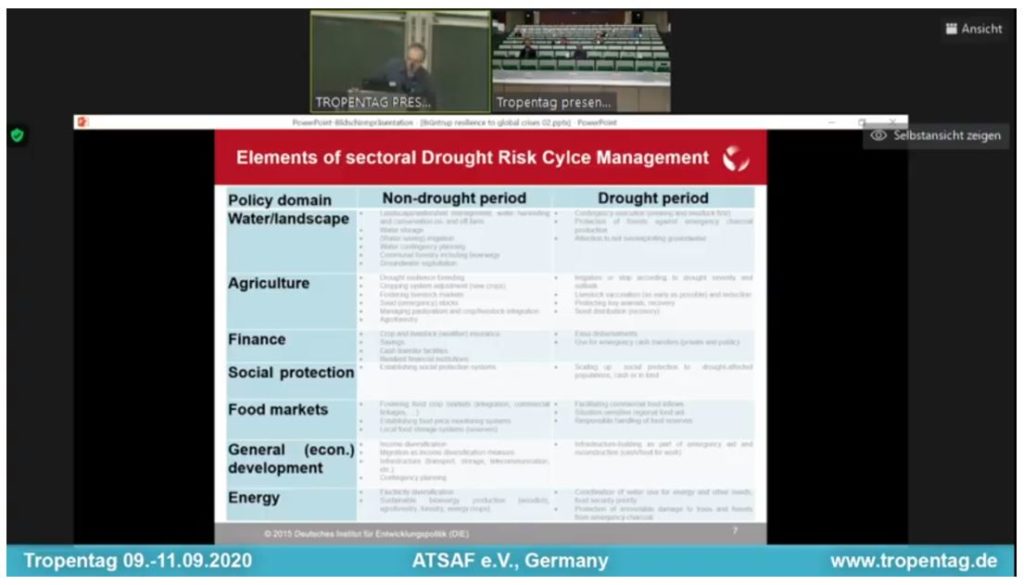 And … kablooey – suddenly even the worst crisis seems to be manageable!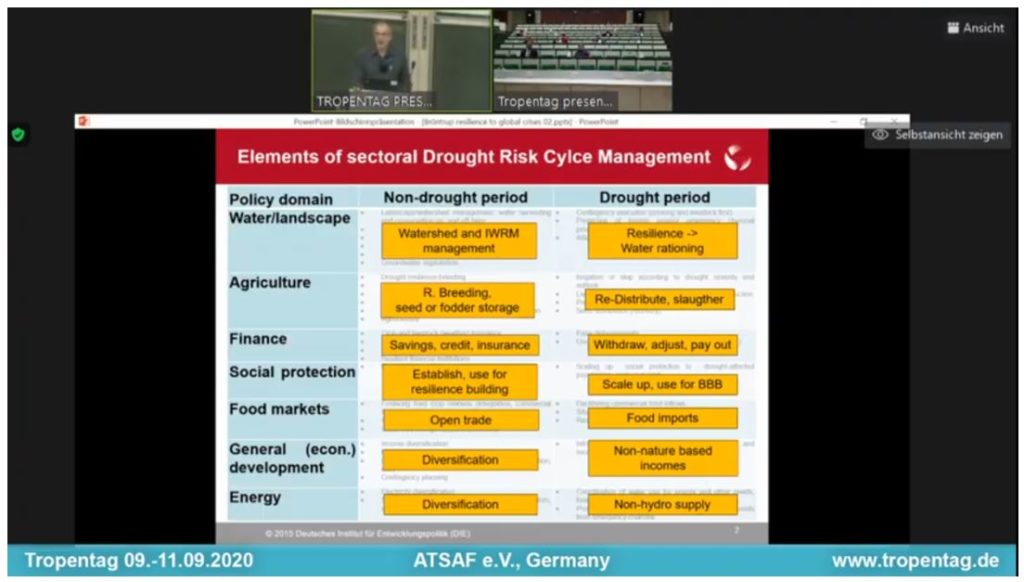 The conclusion (of Michael) – a multi-risk approach is the way to go, even though it is exceedingly difficult. Powerful stakeholders, conflict of interests, rent-seeking – and, as this year, competing conflicts!
Oh no, after three days of almost ignoring the omnipresent disease, I finally landed right in the middle of … Covid-19. But, with again citing Ole Sander, I could even close with good news. Thanks to the pandemic, humankind could reach the necessary climate goals this year – yeah!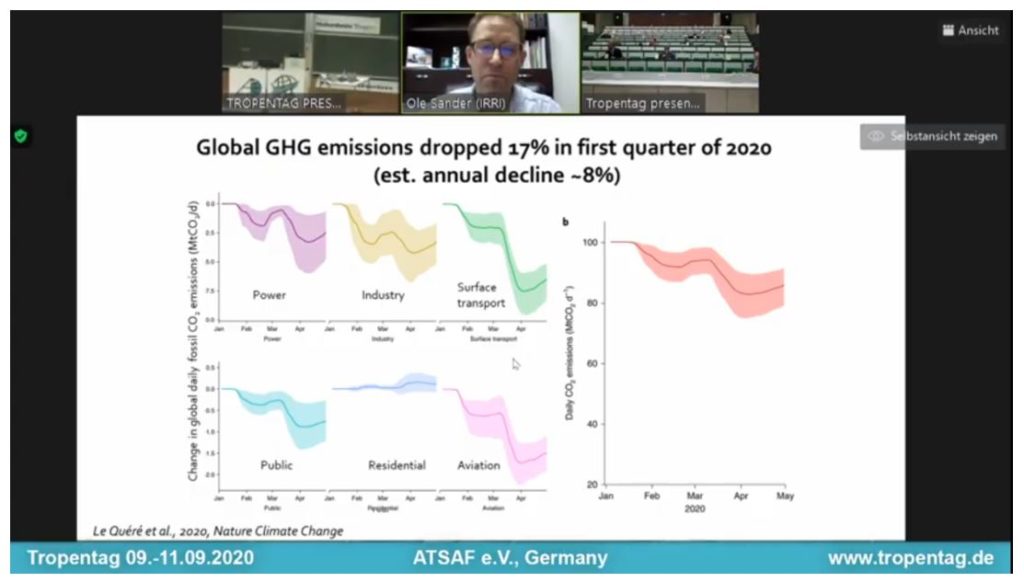 (Okay – feels good somehow, right? Enjoy the feeling. Then breathe – and look at the next screen …)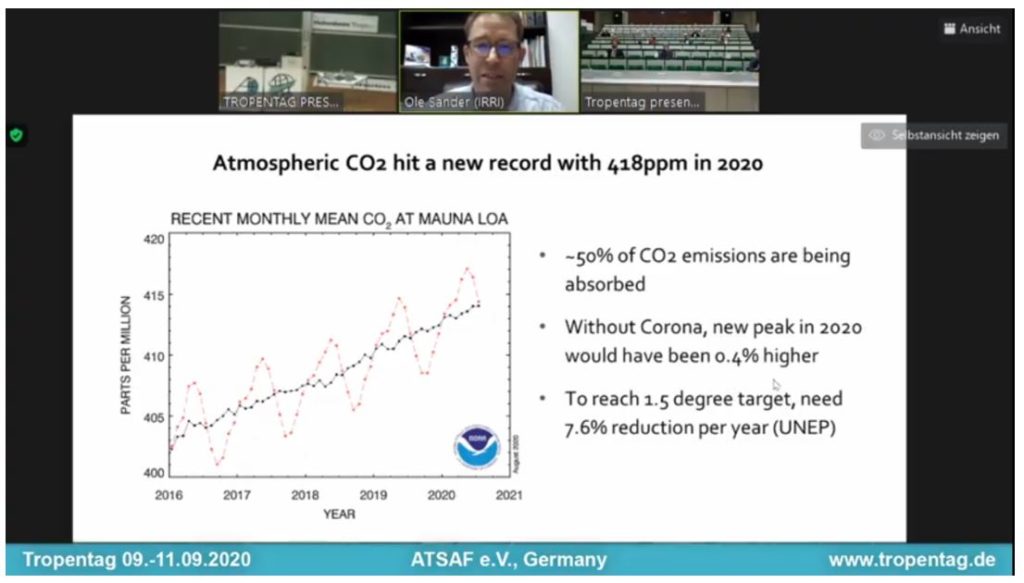 For a moment I considered of censoring the last chart. Hey, I´m not sticking here to any journalistic or even academic standards. But … no. "It is, how it is." (That comes either from my grandpa or an old Buddhist monk.)
Seems as for me more critical, what we are doing out of it. There are immense challenges, no doubt. There are many solutions, probably. And this Tropentag empowers me a bit, to feel optimistic about our future. Which is brilliant. Thank you very much.